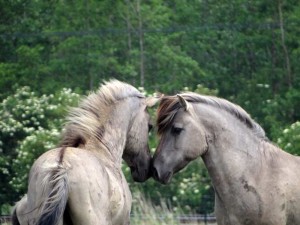 A horse that pushes against you…
A horse that cuts off your path…
A horse that points its attention to eating grass instead of to you…
Horses often seem to get in conflict, but actually they are testing you in every moment. They don't do this to denigrate you, they do this to check what qualities you dispose of in this moment to be able to take care for joint safety. So, they are continuously testing to gather information.
You choose how you react to this: will you try to block this testing behaviour? Or will you accept their invitation to make your message clearer and stronger?…
Horses show us that confrontations can be a useful and even necessary part of everyday communication in your team. Conflict needn't be a synonym for fight!
Some core topics:
The right moment to handle confrontations
Dealing with confrontations instead of avoiding them
Dealing with emotions (of yourself and of others)
Bridging differences by looking for joint advantages in the future
Impact of confrontations on increasing commitment
Dealing with conflicts between other people (colleagues, collaborators)
What if conflicts in a work context become personal?
…
Practicalities:
Maximum number of participants: 10
Price: 198€ (excl. 21% VAT) healthy lunch and coffee / tea / water included
Starts at 10.00 and ends  at 17.00
This workshop can be designed made-to-measure to live up to specific needs of your team / organization.