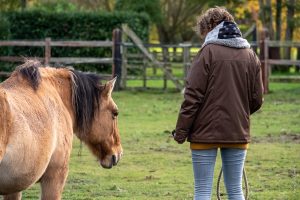 We can learn from horses how to take up the role that is needed and act accordingly by doing what is needed, when it is needed. Every individual plays a part in taking care of the safety of the herd, thus creating a kind of distributed leadership. In other words, leadership is about taking up a role in a given moment, not about holding a position. We can also learn from horses how to better guard the balance between work life and private life.
Some core topics:
Difference between who you are as a person – who you are in your different roles
Getting clarity about what are the different roles you have to play
doing what is needed (and letting go of what is not)
Taking care of your energy (and that of others)
…
Practicalities:
Maximum number of participants: 10
Price: 198€ (excl. 21% VAT) healthy lunch and coffee / tea / water included
Starts at 10.00 and ends  at 17.00
This workshop can be designed made-to-measure to live up to specific needs of your team / organization.