3-day programme: (Self)leadership: (Re-)Root to (Re-)Route
Map Unavailable
Datum/Tijd
Date(s) - 13/09/2023 - 15/09/2023
09:00 - 17:00
Locatie
Domain Equoia
Categorieën
Horses are prey animals. Animals of flight. And yet that does not make them fearful creatures who live from continuous fear. In a world full of challenges, they stand firm, ever alert to their environment and how they can provide for their safety. The choice of their direction is determined by 'where to go'. When they flee from imminent danger, their focus in the first few meters is of course on the danger they want to get away from. Then their attention switches to where it is safe. Solution focused by nature.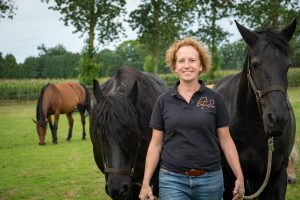 Firmly anchored in the reality of the Here and Now, making the choices that are needed to achieve a desired future – together, and then taking effective steps to achieve that: isn't that what (self)leadership is all about?
Dates:
Dutch-language programme: 23+24+25 August 2023
English-language programme: 13+14+15 September 2023
Location: domain Equoia
For further practical info: mail me at wendyvandenbulck@equoia.org
Core essences of the programme
Day 1:
A herd is a whole of powerful individuals, who each make their own choices, use their own qualities, create their own place.
Taking care of yourself in an authentic way, thereby strengthening the context is an important leadership quality. Learn from and with the horses how to:
get clarity about who you want to be as a leader, and really stand up for that
adopt a solution focused mindset
discover and use your strengths
Day 2:
Horses communicate in an unmistakably clear way. No action-reaction, but genuine inter-action.
Learn from and with them how to:
get your messages unambiguously clear … for yourself
clearly communicate those clear messages
ensure that your messages come across as you intend them to
Day 3:
A herd is much more than the sum of the number of individuals that it consist of. The key is Connective Clarity: a healthy, working balance between connection and direction. Horses master this.
Learn from and with horses how to:
handle situations proactively rather than reactively
turn a group/team into a powerful herd
install an open feedback culture