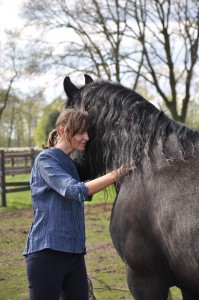 Our coachings aim at people who are in search of the power to keep a tight grip on the rudder of their life.
Are you experiencing fear? Are you burdened with uncertainty or dependence? Are you having difficulties to gain visibility? Are you struggling with setting boundaries? Are you in a burn-out and do you need extra support in making things feasible again? Do you want to boost your resilience in general?
In giving direction to these – and other – topics, I combine my experience as a Solution Focus coach (I don't solve problems, I help to find solutions) with insights and experiences from working and living with horses as individuals and as a herd.
How horses can help you:
Horses are flight animals, but that doesn't involve that they are anxious. On the contrary. Horses are superb in having overview, in thoroughness, in power, in clarity… They don't waste energy: they do what is needed, when it is needed, in the volume that is needed. They are masters in establishing connective clarity through Unencumbered Communication.
The format:
In an introductory conversation, I explore the question or the topic together with you (using a Solution Focus approach). Next, we work with one or more horses to help you gain further insights and take actual small steps.
In short: Ihelp to find answers by listening, by asking questions, by giving words to what is revealed by the horses.
Practicalities:
An individual coaching session takes 1,5 hour
Price per session: € 120,00
Minimal age for an individual coaching session is 16 years