Poupito
This isn't a story about working with a horse on the idyllic Greek island of Karpathos where I am in the context of the yearly Solution Focus Summer Retreat. This is the report of working with a young stallion as an illustration of the power of unencumbered communication.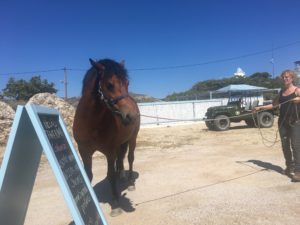 I meet the five year old stallion Poupito on a parking lot in a little harbour on Karpathos. For three years, Poupito has been with this owner who bought him out  of love at  first sight. The horse stands tied  to the wall, wearing a halter with a bit. "Necessary", his owner says, "Without a bit he runs off: he's a very independent horse". There isn't much space for making contact, not in place – because we're standing between a lot of parked cars, nor in time. I bring my hand towards Poupito's nose. What I get in return is pushy snapping instead of open curiosity. Personal space will be an issue.
I'm attracted to the young horse: his steadiness there on this crowded parking lot, the sparkle in his eyes, his apparent obstinacy. I'm both curious ánd excited. Working with an unknown young stallion on a place that is unknown to him in circumstances that are totally different from what I'm familiar with: from a mere rational point of view that is not the smartest thing to do. Gut feeling and curiosity make me step into this adventure, though.
At three o'clock sharp, the owner arrives with the trailer at the open space in front of the terrace of the Taverna. Poupito is taken out of the trailer. I cannot create a fenced piece of land to work with him running free. In order to be able to work with enough space for both of us after all, I asked the owner to bring a strong rope of about six metres of length to lead Poupito with. The owner has brought it.
Poupito indeed appears to be independent. Self-assuredly he walks through the new environment. To him I am just a part of that environment, something at the other side of the rope. I will have to apply leadership skills in a clear and unencumbered way in order to get a 'yes' from him. This is a challenge, since in the first moments I obviously do not exist for him. He takes the initiative, and he tolerates my presence.
Always important and in these circumstances I'm being extra thorough in this: I make sure I have a clear intention. What I want is applying what is needed to become meaningful to Poupito in this moment. How to get there, starts with having my attention 360° and being clear in indicating my personal space.
In order to get the conversation with Poupito going, I need him to direct some of his attention towards me. At first I do this by covering his attention with mine. I start working with his attention, not with his body. Working with a horse's body in which no one is 'present', leads to nothing after all. It would be like talking to a phone which the person on the other side has left behind for a while to water the plants.
I open all of my senses and see myself as the centre point of a radar. This way I scan the broad environment, 360° around me. Sometimes I stand, sometimes I walk. Gradually Poupito becomes interested in me. He regularly starts turning one of his ears towards me, every now and then he looks at me and more and more often he then actually comes to me. Initially he almost rumbles over me. Being a stallion, this young man has been kept alone for years. He hasn't learnt and doesn't learn from other horses how to deal with each other's personal space. With Poupito, this results in quite intrusive behaviour. Personal space is essential: it is the space that enables you to take care of yourself and of the other. Obviously, Poupito is not used to having a conversation about this. A high volume of unencumbered clarity is needed to create some tuning. To even create just an opening towards some tuning.
Thoroughness is required: should I react on this pushy behaviour and should I try to get him under control, I risk to evoke a battle I don't want to fight because of two reasons: in front of me there's about six hundred kilos of horse, and I want to become meaningful to him. Getting into a fight with six hundred kilos of horse I would definitely lose, risking 'becoming meaningful' to be literally kicked down.
The challenge to react on his behaviour is huge. Whenever I do not direct enough attention to him, for example because the to me unfamiliar rope twists, he makes a charge by intruding my personal space and snapping in a dominant way. My answer is clarity, not punishment. I do not punish him for what he did, I am clear in what I want our cooperation to be like, now and in the future. And with being clear I mean unmistakably clear, in an unencumbered way.
In that mode we walk, in that mode we stand, and he's getting more and more curious. He's now becoming really interested and we step into the phase of exploring what we have to offer each other. It is like tango dancing, and he keeps on being on the boundary of saying yes or walking over me. It's going to be a project to have this self-assertive adolescent into really experiencing that cooperation doesn't make him less, but more. That he doesn't have to make himself smaller. That he is invited to interact instead of challenged to react. That it is and will be all right to be critical about what is offered to him and asked from him. That the quest for what is needed in each cooperation is an invitation to grow, together as well as individually.
It's not about getting where I want to get with him. It's all about having a clear intention and finding out how to then get to tuning. Real togetherness is not a hundred percent that has to be divided equally or less equally over the partners (in whatever context). Real togetherness originates when partners (in whatever context) grant themselves and each other their own one hundred percent, thus enabling each partner to grow in togetherness, not faint.
And Poupito? That will be a process. His owner realizes that in this moment he faces two large pitfalls: the one of comradeship with his horse and hence not offering enough clarity, and the one of controlling and hence often getting into a struggle.
When I returned Poupito to his owner at the end of the session, the owner started to play amicably with Poupito's nose and lips, on which the horse pushed hi   m aside. The owner reprimanded Poupito for this and the horse reared. Both logical ánd unfortunate behaviour. Of both. By not offering clarity you do not position yourself as a leader. You are not meaningful. When the horse fills the gap in clarity and is then reprimanded for that by the same person that was before – not knowingly – showing in his behaviour that he was not taking up leadership in that moment, thus being unable to take care for safety, it simply is confusing. Not more, not less.
Poupito's owner is a loving man who clearly sees where he is in the process with his horse. He wants to give this project the attention, the energy and the time that is needed. He invited me to come over twice a year to guide him with Poupito.
If only Karpathos was closer…